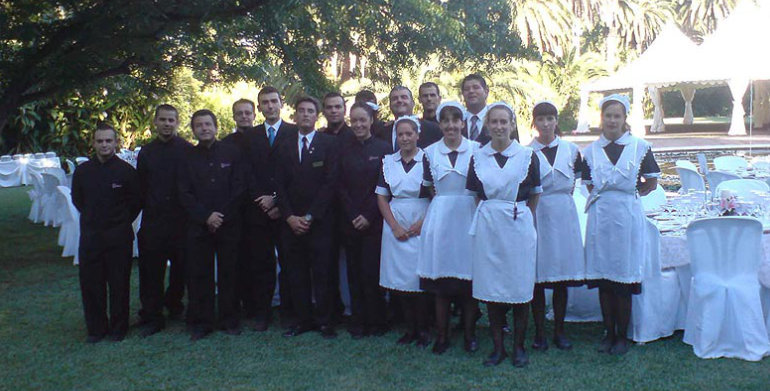 Our team
Professional team specialized in catering services and events organization.
Grupo Lepanto is a family business started by Pedro Pablo Hoz who was following in his grandfather´s foot steps who owned a very prestigious pastry shop in Cantabria. Along with him, other very active members of the company are his daughters Marta and Mónica as well as his grandchildren Adán and Alexis. Between them all they contribute seniority, experience, youth and new ideas all in equal amounts, making Lepanto a company of great tradition and deeply rooted in the province.

This is a reference company in catering services in the Costa del Sol and they include constant innovation in the enterprise, offering new and alternative proposals for celebrations in Málaga and in the day to day management of their establishments. This company combines in perfect harmony conduct rules and care for diners that form part of the tradition of the company along with newer ideas applied to events organized that supply great added value for the client.

This company has a team of around 150 professionals, a staff formed both by permanent workers in the company as well as external collaborators. All follow the company philosophy, centered around offering maximum attention to detail for the client in celebrations organized by Lepanto. The key to success is following behavior trends and style rules that make the difference between Lepanto and other companies engaged in offering catering services in the Costa del Sol.

Each and every one of the people that form this team are like a large family. This union is reflected in the perfect operation of the cafeterias as well as the services the Catering Division of Lepanto offers. All working for the common goal, the result is the possibility of offering clients an exquisite treatment for their celebrations in the capital of the Costa del Sol.

Human resources are one of the keys to success of this company. Another fundamental part of the company is the operations and how these are distributed in order to render services in the different locations where the company is present. The staff is the heart of the cafeterias in Marbella, Fuengirola, Benalmádena and Málaga and the catering service offered in the estates as well as residences and venues in the entire province (Castle of Santa Catalina in Málaga capita and Finca La Herradura in the Hills of Málaga).